The Fisch & Fisch Group operates internationally, providing ideal solutions for industrial logistics for transfer of machinery and equipment, with offices in Brazil, Argentina, Uruguay, Mexico, USA, Germany, Italy, France, Spain and Morocco.
For more than twenty years in Brazil, the Fisch & Fisch Group operates harmonic and dynamic following the most rigorous standards of quality business, and so winning awards and customers around the world. We operate from the beginning, participating in the planning of the operation when it is still being decided by the board of his company and, subsequently, covering all stages of handling international projects.
With our global vision, assist in decision making in administrative steps, tax, financial and logistics of the whole process. Our work ranges from initial contacts with potential customers or suppliers abroad, through the formalities with government agencies to control the import and export processes.
Parceiros

The CW DO BRAZIL is a company specialized in Logistics Operations, including acting as OTM (Multimodal Transport Operator). Playing an important role as a service provider in the international freight forwarding and customs assistance. Experience and our partners enable CW OF BRAZIL enable many different operations related to the carriage of cargo and conventional projects in all stages. Our main function is to ensure the efficient logistics at all stages of the chain of transport and / or storage, as well as organize the distribution directly to certain points when needed.

National company, specializing in international consulting and customs clearance, with offices in several continents.

German company with major presence across Europe, located in the Port of Hamburg. Leader in specialty packaging for all types and purposes, also conducting air, sea, land, storage and logistics, with warehouse climate for storage and handling.

Company engaged in the direct area of packaging machinery. Qualified Company with certificates.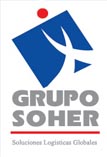 Company active in the International Trade of Mexico. Offers solutions for companies according to their requirements and needs.

Buss Port Logistics operates efficient multipurpose terminals for containers, project cargo, and breakbulk of all kinds and is supported by a comprehensive offer of in-house port services. Moreover, Buss Port Logistics is planning and developing new port facilities. Tailored to client needs: individual and goal-orientated services, highly qualified staff, as well as effective IT solutions guarantee first class service. 24 hours a day, 7 days a week.